About
---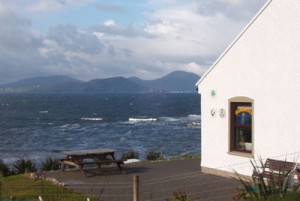 WE ARE OPEN for most of the year but always check availability before risking just turning up!

(Check  Hostelworld.com for availability)

There is a bus service to and from hostel on weekdays! See details on 'Travel' page.

 WHAT IS YOUR VIEW FIRST THING IN THE MORNING?  
VISIT US AND WAKE UP TO A BREATHTAKING VIEW!
Sandrock Holiday Hostel is located at Ireland's Most Northerly Point 0n the WILD ATLANTIC WAY at Malin Head overlooking the fishing pier, beach, sea and highlands of Donegal across the bay
The ever changing wild spectacular scenery, especially the Wild Atlantic seascape can be observed from the hostel.
On arrival all guests are welcomed,  given a tour of the hostel facilities and then a full description of what to do, where to go and given a personal map of  the area followed by complimentary tea/coffee and biscuits.
The hostel is entirely self catering and ingredients for meals can be purchased in the nearby supermarket or in local pub/shops for preparation in the fully equipped hostel kitchen.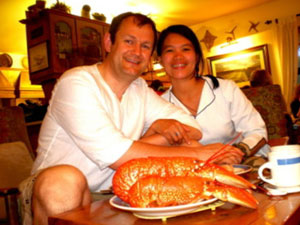 RATE:
We can accommodate 20 guests in two ten bed spacious ensuite dormitories at a basic price of 13.50 euro pppn payable on arrival,  please.    * If you do not bring your own sleeping bag or bedsheet,   a bedsheet can be hired at 1.50 Euro pp extra.
Duvets and pillows are supplied .  So full bedlinen can be provided.
In the Hostel double self catering kitchen you may also eat crabs, lobsters, mussels, oysters and fish – all available from  the 'Malin Head Crab' Shop in Ballyhillion (contact 00353 (0) 93 70569 to order crab/lobster cooked daily straight from the sea)
You can also fish or swim from the pier below.  Some guests surf, dive, canoe etc with own equipment.
See us on YouTube link:  Sandrock Holiday Hostel,  Malin Head, Ireland 2014  – Google Search     Guests at Hostel 2014
Sandrock Holiday Hostel is  located on the Wild Atlantic Way and the Inishowen 100 Tourist Route
 from the Apple App Store or Google Play Store.                               
See http://www.wildatlanticway.com    See site: Malin Head site:youtube.com – Google Search 
Click on this picture for full view of front exterior of hostel: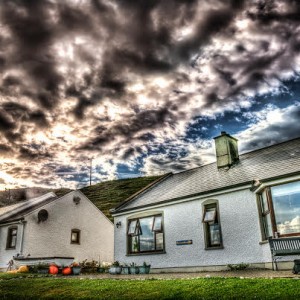 Also click on this picture for full view of Sandrock Holiday Hostel sitting room!