Travel
---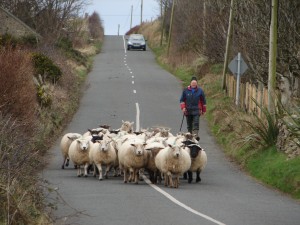 WE ARE OPEN    Always check with us  availability before  risking just turning up!
TRAVEL 
BY BUS/CAR/MOTOR CYCLE/FERRY or BICYCLE etc :

See details of the Wild Atlantic Way below.
See   Malin Head site:youtube.com – Google Search
If travelling by KAYAK (by sea) see info at bottom of page….
See Sandrock Holiday Hostel on GPS : N 55 degrees 21 mins 42.4 secs/ W 007 degrees 21 mins 30.4secs.
To find a car route to Malin Head  – see GOOGLE -Maps  or see various maps available in all garages, supermarkets etc or look us up on the GPS info above or look up www.theaaireland.ie route maps and type in from where ever you are leaving and then your destination 'Malin Head'   Follow the road R242 and when you arrive in Malin Head follow the roadsigns  'Sandrock Holiday Hostel' from the Crossroads Inn location onto the L1011 road..
From CARNdonagh you can simply follow the Wild Atlantic Way (N) sign.   It is a blue WAW (N) sign to Malin Head and turn off at the 'Sandrock Holiday Hostel'

Local Buses  ROUTE 954 available to Hostel  from Carndonagh (Carn).
Please see the RURAL BUS TIMETABLES   See www.locallinkdonegal.ie
From DERRY  the easiest way by public transport is on Mondays to Saturdays to be in Derry at 3.10pm to catch the Local Link Route 952 connection to Carndonagh (3.10pm) at Patrick Street, Derry which is opposite the cinema.
** Then in Carndonagh catch the 5pm Inishowen Rural Bus (Local Link Route 954) to Malin Head and ask for Sandrock Holiday Hostel. They will bring you to the top of the road near the hostel. They will also pick up near the Hostel at any day Mondays to Saturdays to connect with other buses in Carndonagh to Derry and Letterkenny.  .
Timetables see   www.locallinkdonegal.ie  Route 954 mentioned above is shown on this site 4 buses a day. The last bus to Malin Head on Mon to Sat from Moville is in MALIN TOWN at 19.07 and arrives from Carndonagh direction to Malin Head.
The TFI local Link  ROUTE 952 operate in WHITE buses and leave Derry for Carndonagh at 8.55am, 10-35am, 3.10pm, 5.10pm* and 9pm*  from Patrick Street, Derry (Opposite the Cinema) and Not the Bus Station. (* No link from Carn to Hostel)  Telephone 074 9741644 or see Web  www.locallinkdsl.ie
McGonagles Bus Service
Route 955 which is a new route from Letterkenny to Buncrana to Carndonagh  and runs 6 days a week.   See timetables: www.locallinkdonegal.ie
One of these buses has a good connection to Malin Head.  See below:
If you are travelling from Letterkenny Monday to Friday there is a Rural Bus Service Route 955 (McGonagles Bus  – Telephone 074 9362480) at 3-30pm departing Charlie's Cafe, Pearse Road & Tinneys Oil Co., Station Road Roundabout which arrives in Carndonagh at 4-50pm and links with the 5pm local link bus to Malin Head.
See timetables above above.
On Sundays there is very little public transport available in rural Ireland. The Rural Bus Service (local link route ) leaves Carndonagh at 12-45pm for Derry. ( One bus only) and returns from Derry (Foyle Street/ Cinema) to Carndonagh at 5-15pm.  You will have to hitch/ hire a cycle in Carndonagh or get a taxi to/from the hostel to/from Carndonagh.
Long Distance Services:
Your main objective is to get to Carndonagh (Known locally as CARN) on the Inishowen Peninsula, County Donegal. If coming direct to Sandrock Holiday Hostel from Belfast, Dublin* or Galway get the DERRY bus'.
AIRPORT TRAVELLING TO and FROM
If travelling from DublinAirport/Belfast City Airport/ Belfast international Airport to DERRY See AIRCOACH …Book online at www.aircoach.ie
Derry has local services to Carndonagh (CARN) Inishowen.  For travel at other times and on Sundays you will have to hitch/ hire a cycle in Carndonagh or get a taxi to the hostel from Carndonagh which is 17kms from the hostel.

There are other regular bus services to and from Derry to Belfast, Galway and Dublin every day. The regular bus service direct fromDublin/ Belfast City and the International Airports to Derry. It is called 'Aircoach' see above.
Bus Eireann [Irish National Bus Company]
Dublin / Dublin Airport /Galway to Derry [Derry is much nearer to Malin Head, Inishowen than Letterkenny]
www.buseireann.ie
John McGinley Licenced Private Bus Service
Daily to and from Dublin via Dublin Airport and Carndonagh (CARN) Inishowen. This bus leaves from Parnell Square Dublin –  Monday to Saturday at 9-30am (Dublin Airport at 9-45am) and 5-45pm (Dublin Airport at 6pm) . There is an extra service on Fridays at 3-30pm.  On Sundays at 12-30pm and  8-30pm. Tickets are purchased on board the bus. To make reservations telephone 00353 74 91 35201 from abroad or 074 91 35201 from within Ireland or
www.johnmcginley.com for timetables.

FERRIES:
The Scenic Lough Foyle Ferry 2023

Check with GOOGLE
Foyle Ferry – Greencastle to and from Magilligan Northern Ireland( ROUTE TO AND FROM GIANTS CAUSEWAY)
Commences daily  from 26th May 2023
Linking the Wild Atlantic Way with the Causeway Coast.
We are delighted to announce that daily  Summer Schedule sailings
Full details check out latest sailing times on our website www. loughfoyleferry.com
Tel: +353 74 93811901
We cant wait to welcome our customers on board 
Daily Summer Sailing begins 26th May – mid September 
Our daily summer service begins on Friday 26th May. Sailing a continuous shuttle service from 9am to 8.15pm.
First Sail Greencastle 9am
First Sail Magilligan 9.20am
Last Sail Greencastle 8pm
Last Sail Magilligan 8.15pm
We cannot accept buses or lorries over 6 metres in length. Apologies for any inconvenience caused.
Fares can be found in our online ticket area, click the link below
For information on sailing or ticket queries call our freephone numbers
T: 1800 938 004 (ROI Freephone)
T: 0800 471 4665 (N.I. Freephone)
Buncrana <> Rathmullan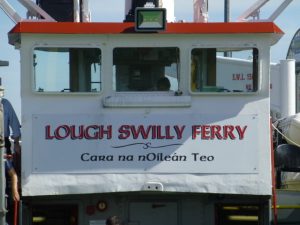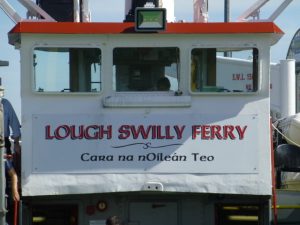 Operating between Rathmullen and
Buncrana 2022
Now known as the Lough Swilly Ferry telephone 087 211 2331.   The journey times and fares can be found on the website www.swillyferry.com or email: loughswillyferry@gmail.com  Booking is essential for vehicles
The scenic journey time is 40 minutes.  Operating  7 days  Summer Service from June 2023 between 10am  to 6pm (Buncrana) and 10-40am to 6-40pm (Rathmullan) on a first come, first served service.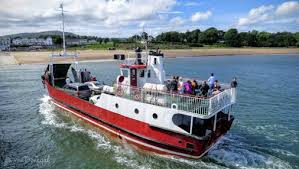 Check website for Summer Timetable
See   www.swillyferry.com   Email: loughswillyferry@gmail.com
Telephone: 00 353(0)87 211 2331
The Wild Atlantic Way is Ireland's first long-distance touring route, stretching along the Atlantic coast from HERE – Malin Head in Donegal to West Cork
MALIN HEAD is a 'MUST SEE' location in the new, soon to be circulated, brochure dealing with the treasures of the Wild Atlantic Way.   This is a new tourist route opened in March 2014. This travel guide has been designed to highlight some of the hidden treasures along the route, places where locals like to go and which lie off the beaten track.
Follow the (N) north signs from Cork to Malin Head and onto Derry.   From Derry to Cork via Malin Head follow the (S) south signs.
See  Malin Head site:youtube.com – Google Search
If you see this brown road sign  'Inishowen 100'  – It refers to a scenic 100 mile circular road route around the Inishowen Peninsular.   You can google it or pick up the details at Sandrock Holiday Hostel or the tourist offices in Carndonagh or Buncrana. 
REMEMBER if you are having difficulties with travel arrangements always contact your destination hosts at the hostel, Margaret and Rodney.   This advice applies throughout Ireland – your accommodation providers will know best advice on how to get to them.  We all understand that travelling in Ireland can be complicated.
See Jasper Winn's travel book entitled ' PADDLE – Along way round Ireland '
ISBN 978-0-9560038-8-1