Facilities
---
Accessible by BUS

GOOGLE us for more photos and guest comments
Totally self catering,
 Free Parking, Common Room,
Free WIFI access Guest Kitchen, Hairdryer for Hire, Iron and Ironing Board,  No curfew 24 hour key access,  Library,  Outdoor Terraced Area,  Reading Lights,  Refrigerator,  Tours Info,  Towel Hire,  Washing Machine and Dryer, Wheelchair Accessible. Fishing gear is also available for guests at hostel.  BBQ also.
There are Walks around Malin Head translated into several languages available in hostel for guests
A horse riding stable is available within 16 kms of hostel in Malin Town which offers beach horse riding.
During summer months basking sharks, dolphins and seals can frequently be viewed from Hostel.
See the YOUTUBE link below:
See a guest's BASKING SHARKS video filmed from his kayak  just outside hostel:
During the Summers since 2009,  Malin Head and the North Coast of Donegal was teaming with BASKING SHARKS clearly visible from Hostel.
Throughout each Summer up to 50 DOLPHINS are seen outside of hostel and in the Malin Head area frequently.

Over 100 were tagged by the Irish Basking Shark Project!  See
www.nature.ie
 and http://www.baskingshark.ie  A family of Orca Whales (Killer Whales) have been sighted nearby during the first weeks of June each year

Each year  40 – 50 Bottle nose Dolphins were in the sea around Malin Head from May to end of year..
One of the Basking Sharks which was tagged outside the hostel in August 2012 ended up below the Canary Islands near Cape Verde in January 2013 on his holidays!
Throughout each Summer and Autumn,  Malin Head always has visitors –  BASKING SHARKS, DOLPHINS and ORCA WHALES !!
Remember a MUST SEE on YouTube is a guest's BASKING SHARKS video filmed from his kayak 2013 just outside hostel:

 
SEE AURORA FORECASTS on free App  :      Aurora Forecast
Email
DonegalSkies@gmail.com
with Aurora Alerts in the subject.  You will receive an email prior to any possible Donegal aurora display.

To see if you can catch a glimpse of the northern lights after receiving an Aurora Alert email, you should scan the west, north and north east horizons for faint, white inconspicuous domes of light.  White beams of light may shoot from these domes to the centre of the sky.  Should the display really pick up, it may be possible to see hints of colours in the aurora. Green and red are the most commonly reported colours visible in the aurora. These colours really show up well in long exposure photographs.
Excellent sites for keeping up to date with the solar weather and the possibility of low latitude auroras are  App  'Aurora Forecast'  OR
www.spaceweather.com
and
www.solarcycle24.com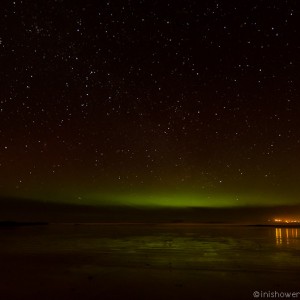 MORE SKIES AT NIGHT

 
Often the sky is clear and dark enough with low level of light pollution to give beautiful, breathtaking views of the solar system, stars (sometimes shooting stars), planets, space station, etc..
The lights on the bottom right of picture  are Sandrock Holiday Hostel>>>>>>>>>>>>>
See hostel photographs on www.uniqueirishhostels.com/http:__www.uniqueirishhostels.com/Even_More_Photos_Sandrock.html
and the local area on www.visitinishowen.com
BIRD LIFE
Malin Head is a haven for bird life .  The following are often sighted: Sea Eagles, Golden Eagles, Buzzards, Kestrels, Peregrines – all sorts of birds of prey, rare birds ie Twites, Corncrakes, Choughs and Lapwings, Curlews,  Oystercatchers,  various Plovers, various ducks including Shellducks,  Eider (also a rare American Eider duck is in the area) , numerous seabirds and a family of Grey Herons are resident nearby.
Cuckoo calling 2021 near hostel
 NEWS  Birdwatcher  Hostel Guests videod seven CORNCRAKES calling in Malin Head within immediate vicinity of hostel!!! Again this year!