Celebrating the film location  at Malin Head.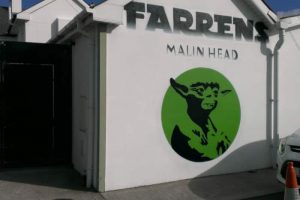 At Malin Head and throughout Inishowen The FORCE BE WITH YOU (MAY THE FORTH BE WITH YOU) Festival Weekend is on the 3rd, 4th and 5th May. The road to Malin Head R242 will be renamed R2D2 for the Festival. Numerous activeties planned.
SEE:                  www.wildatlanticway.com/may-the-4th
Our organisers website is now live!
Keep up to date with the programme, book tickets for the events and keep up to date with the events and scheduling of the first ever 'May the 4th by with you' festival in Malin Head here….
https://www.maythefourthbewithyoufestival.com/
May the 4th Be With You Festival makes an anticipated return to the Wild Atlantic Way with the introduction of Malin Head in County Donegal to the festival offering.
With events happening across the Inishowen Peninsula, there is plenty of family-fun events for all ages.
Star Gazing at the Planetarium
Filmed Orchestra & Fireworks Display
Death Star Footie Skills Target Practice
Blaster Tag & other Intergalactic Fun & Games
Jedi Cadets Academy (under 8yrs)
In addition to family events, there are also a number of immersive galactic adventure experiences available – why not explore Star Wars Film locations through outdoor Tai Chi Qigong or a guided tour and walk with an organic food and cooking demo? If you're feeling more adventurous, you can even observe dramatic film locations from 'The Last Jedi', including the site of the Millennium Falcon, from the unique viewpoint of the Atlantic Ocean or embark with Inish Adventures for an exciting half day kayaking trip.
If sitting back and relaxing is what you're after, take in the breath-taking film locations on a scenic tour or check out the drive-in cinema and watch The Last Jedi, Episode VIII as you have never seen it before with the magnificent northern skies as the backdrop.
Download the Malin Head/Inishowen May the 4th Be With You Festival programme